So, I'm a bit late on this, because I've been really busy, but you should still take a look!
Basically, I'm going to post my notes which I wrote whilst watching the collection - unfortunately not live because my internet decided to not work for that night!?
I will tell you what the notes actually mean as we're going along as I just scribbled everything in my mind down..
Naked woman background-
At the beginning of the show the backdrop was a naked woman on a bed sheet.
Eary Music- Speaks for itself really.
Backdrop of audience spinning-I thought this was really cool. It was basically what the cameras filmed of the audience and it was spinning round..
HUGE SHOES!!(Next to little diagram of shoes) - They were humongous. I'm surprised someone didn't trip!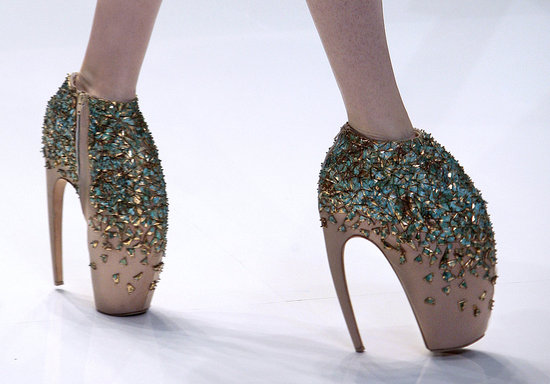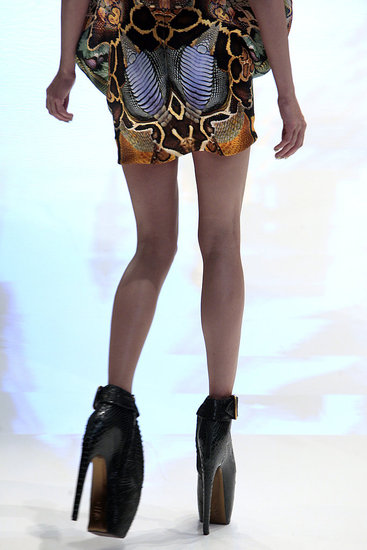 Scaley Prints (Alligator, Tiger, Fish) -
These were the animals the print of the first dresses were. Beautiful, me thinks.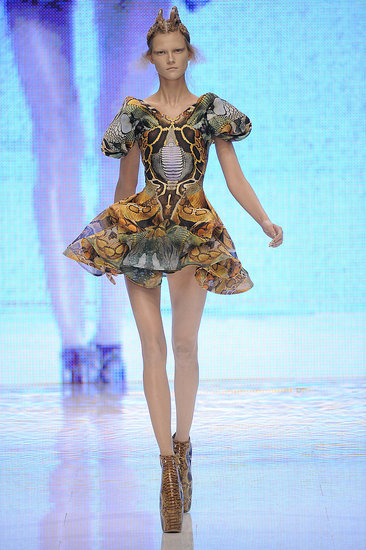 "Out of this world"- I just imagined the critics using this phrase. It really is true.

High Neck full body harem- This doesn't make sense, but basically, it's harem pants but with a top attached.

LOVE the lighter coloured dresses (Blue and Silver) - OOh, they're so nice!

Two words, bin liner- Hmm. This dress wasn't too nice. It's like a cut up bin liner.

Glittery silver make-up (extra terestrial) - No explination needed really.

Nipple dress not "ready to wear"- This is really not "ready to wear" as the collection was meant to be. Well, unless you like walking around with your nipple showing?!

Brilliant detailing- You could definately tell this is a designer collection, the detailing was amazing.

So overall it was a really good collection. I actually wasn't sure when I first looked but after watching the video, I thought it was really nice. Alexander McQueen did a great job.
-Olivia